Christmas with The Singers
Saturday 16 December 2023
7.00 pm
St George's Church, Osborne Road, Jesmond
Newcastle upon Tyne
Please note starting time.
The Singers
conductor Donald Halliday
with special guests
Viol consort led by David Blazey
Scottish smallpipes James Clark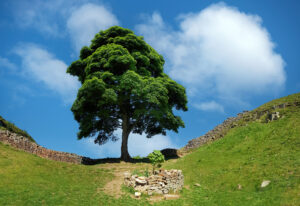 With the loss of the much loved sycamore tree on Hadrian's Wall there will be a special focus this year on carols and music featuring trees, and flowers.
---
---
• COMPLIMENTARY MULLED WINE & MINCE PIE
The Friends of St George's will be providing complimentary mulled wine and a mince pie at the interval.
• COMPLIMENTARY PROGRAMME
Free printed copies of this year's programme will be available at the concert. Last year's programme can be downloaded using this link.
• LAST YEAR'S PRICES
We've held this year's ticket prices to the same as last year.
• SAVE £2.00 PER TICKET BY BUYING IN ADVANCE
Tickets on the day will cost £12.50. Tickets purchased in advance are £10.50.
Buying in advance saves you money – and helps us plan.
Offer ends on Friday 15 December.
CLICK ON THE PICTURES BELOW TO GET YOUR TICKETS.